Welcome back! I'm happy you're here today because I'm going to share my tips on how to create a media kit! I know that not everyone has it but it's quite handy. A media kit is quite an essential when you want to approach brands and pr agencies. Read more on my tips on how to approach brands & pr agencies. A media kit is quite simple to create. You don't need to be a pro in Photoshop however you can create it the way you want to. You can keep it simple but you can also give it a little twist to make it a bit more personal. First of all I do my media kits in Word. I'm so not handy with Photoshop. Word is just easy to work with! So if you want something simple you can use Word as well. So what needs to be in your media kit?
Short & concise summary about you & your brand
In a media kit you start of writing a short summary about who you are, what you do and what your brand/blog is about. It shouldn't be a long text and it's shouldn't be very short either. Just a short & concise paragraph with this information is good enough. However this can be a bit tricky because this is the first thing the companies, pr agencies etc are going to read when you send it. So try to differentiate yourself & try to make it catchy as well. What makes you & your blog different from the rest. It's like pitching yourself but don't forget to stay true to your very own self!
Mention your social media statistics
The next thing you should mention are your social media statistics. Mention all of your social media platforms that you use and write the amount of followers that you have on each platform. Don't feel embarrassed if you have like 50 followers on a particular platform. Show them that you are a growing business!
Mention your top audience
Via Google Analytics you can find a lot of information about your audience. For example you can find where you main readers come from, gender, age etc. It all depends on what you wan to include in your media kit. Only add the information that you find important for the ones receiving it. I only add the information about where my audience is from. For example in my case my audience are mainly from The Netherlands, The United States, France & Germany. This is important because some brands are targeting a specific location. If they see that your main visitors are from that location, that can determine whether they find your blog suitable enough for their brand.
Mention your blog statistics
So this is the part which is quite important because PR agencies and brands want to know how many unique visitors you get, how many page views you have per month, the bounce rate, percentage of returning visitors and so on. Some PR agencies are very strict with the amount of bloggers they want on their press list. Based on this information, they can make their decision if they want you on their list. I know that some bloggers adjust their figures here and there to make it more appealing but this is something I do NOT recommend.
I remember when I really wanted to work with a specific PR agency that had some very cool brands. I emailed them & they asked for my statistics. I didn't have that many pageviews at the time but it didn't stop me from approaching them. They emailed me back saying that they required a particular pageviews per month and that I didn't reach it yet so therefor wouldn't put me on the list. I was disappointed but still I thought let me email them a year later when my stats are higher. So recently I emailed them again with the suggestion if I can be on their press list. I hadn't reached the minimum requirement of pageviews but the difference was soooo small I thought they will look beyond it and check out my blog, my content, writing skills, visuals and so on. Do you know what they wrote back? ''You haven't it reached it yet, you're almost there so we still can't but you on the list. Thanks for approaching us and good luck." Are the numbers all that count? I wasn't even disappointed this time. It just opened my eyes that I don't even want to work with them if all they do is look at numbers, numbers and some more numbers. What if the quality and the content of your blog is ah-ma-zing?! So that's why I'm saying just be honest and write your statistics. You might not always get the respond you want but there will be those that can see how good you are in what you do and see how your blog is growing. Those are the ones you want to work with!
Mention your experiences & services
This is the part where you can mention your experiences. So if you done several collaboration with brands, name them. Just name a few that you really liked or the most recent. From then on you can also sum up the services that you offer brands and PR agencies. These can be for example hosting events, writing reviews and sponsored post just to name a few.
These were the basic tips in order for you to create a
media kit
. A media kit is something that you can create it the way you want to. What I mentioned in this post, are points that needs to be included in a media kit. You can add more information if you want to. That is totally up to you. I have two examples of media kits of bloggers below. This is how they created their media-kit so you can have an idea of how you want to create yours. I'm going to show you two completely different media kits. In my opinion they're both very creative, unique & fun but just in a different way!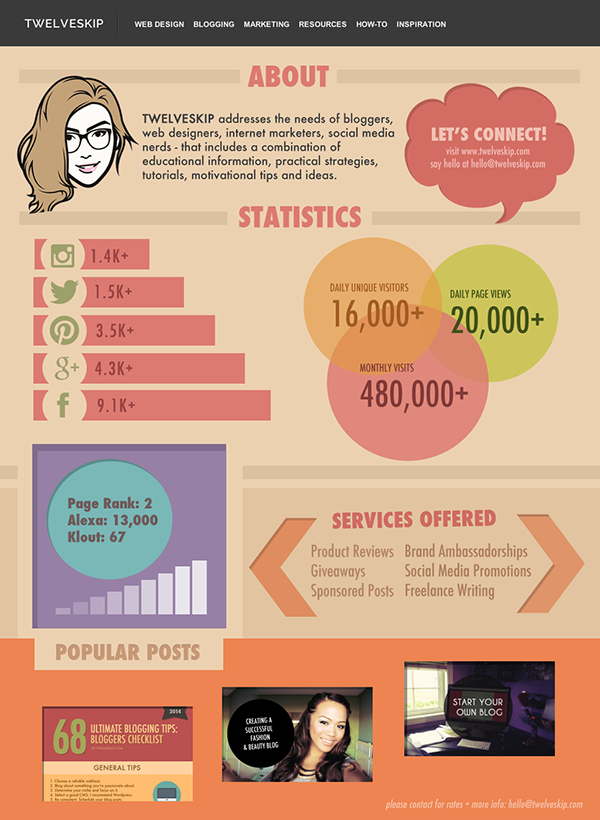 If you want to see more examples of media kits, you can just head over to Pinterest and type in media kit and you'll see a lot of them! So that's it for today guys. I hope these today's
tips
were helpful! If you have anything you want to add, feel absolutely free to do so!
Do you have a media kit as well? Has it helped you to get more clients? If you don't have a media kit yet, are you planning to create one?
Don't miss out on any posts on It's True Blog by following me via
BLOGLOVIN
below!
Follow(function(d, s, id) {var js, fjs = d.getElementsByTagName(s)[0];if (d.getElementById(id)) return;js = d.createElement(s);js.id = id;js.src = "https://widget.bloglovin.com/assets/widget/loader.js";fjs.parentNode.insertBefore(js, fjs);}(document, "script", "bloglovin-sdk"))